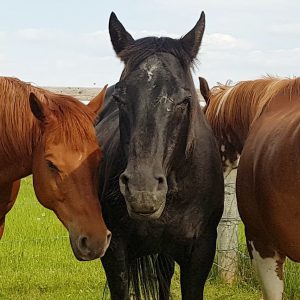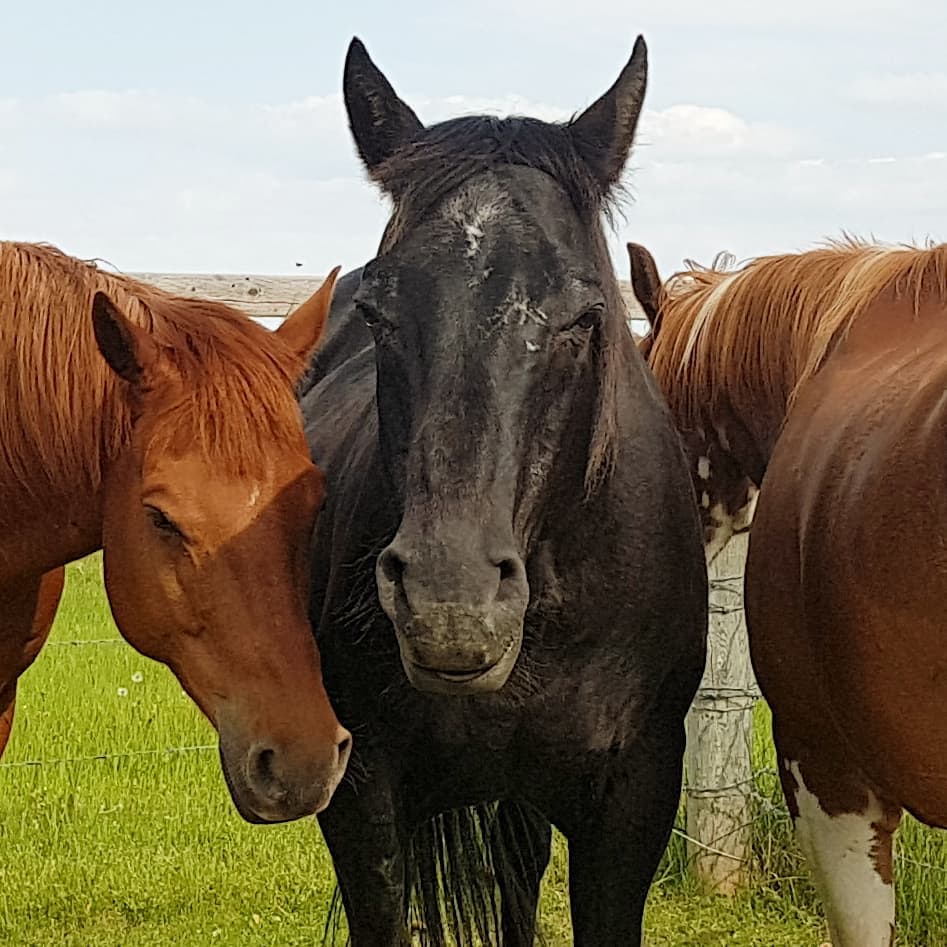 Winter is here and in the back of our minds we all have that little worry about our oldest horses. Will they be ok? Will they make it through another winter? How can I keep them feeling their best through the harshest weather? These questions especially arise when we think of the senior horses that are now pushing 30 years old. Obviously they have lived this long because of your amazing care in the first place, but how can we make sure they keep going strong for their last years? And why are we dealing with these issues now? Horses have been around for a very long time. Shouldn't this all be old news?
Well, truthfully, horses have never lived as long as they do now for several reasons. Geriatric or senior horses are becoming much more common due to improved husbandry, new knowledge in nutrition and feeding, improved veterinary and farrier care and improved knowledge in fitness, conditioning and work for the horse. 30 years ago it was rare for a horse to outlive its teeth, but now, senior horses can live for several years comfortably with no teeth at all. A rise in the geriatric population can also be attributed to better understanding of behavioral psychology and management, changing functions of horses in today's society and increased personal attachment of horse owners. It is also more economically feasible to prolong the useful lifespan of a horse as well.
So what can we do to keep these horses around so they can teach our grandkids how to ride? The first and probably most important is nutrition. Older horses fall into 1 category or another, fat or skinny. Both of these categories can be tricky at times to manage. The skinny horse is always a larger concern than the fat horse. Some older horses do not utilize their feed as well as younger horses do and for this reason they may need more feed, higher quality feed, or a supplement to help keep their weight at a good level. One of the easiest ways to increase caloric intake in a senior horse is feed a senior feed and add a vegetable oil to the feed to increase fat levels. When fed grain such as oats, this may give your horse more expendable energy but it doesn't help increase body condition as well as soaked beet pulp or vegetable oils. Also make sure the younger horses are not bullying or pushing the older horses away from the feed as this can lead to decreased caloric intake as well. If your older horse is being bullied, consider feeding them separately or in a different pen with supplements to ensure they are getting enough good quality feed.
The opposite can also happen, the older horse is often less active and turned out to pasture where exercise is limited but calories are not. Obesity can lead to certain metabolic disorders and adds stress to the feet and legs of the horse. Just like in people, most horses have some arthritis and extra or excessive weight doesn't help with inflammation or joint pain.
Vaccinations are still very important in the older horse just like in the younger horse. Due to a lifetime of exposure, geriatric horses may be less susceptible to Influenza or Strangles but they can be just as susceptible or more susceptible to diseases such as West Nile, Rabies, Tetanus, EEE and WEE due to a weaker immune system. They can also be carriers of Influenza and Strangles and may not get sick but shed the virus which exposes younger more susceptible horses. Vaccinating has been proven to decrease or eliminate viral shedding and can help protect younger horses through vaccination of older horses.
As mentioned before, it never used to be an issue that horses would outlive their teeth, but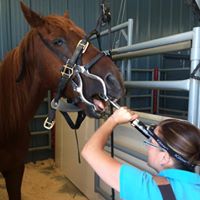 from 20+ years of grazing, grinding and chewing, teeth may be warn short enough to make chewing ineffective or may be missing all together. This can create an uneven wear pattern and cause pathologic conditions such as wave mouth or step mouth which prevents the horse from grinding its feed and utilizing it. Annual dental exams and possible treatment is just as important as good nutrition.
Some metabolic diseases that old horses can develop are PPID (Pituitary Pars Intermedia Dysfunction) more commonly known as 'Cushings', and Metabolic Syndrome. It is unknown at this time if these two disorders are linked or connected with each other but both decrease the immune function of the horse and both increase the occurrence of laminitis. PPID can be successfully managed with Pergolide, a medication that was formerly used in humans with Parkinson's disease, while Metabolic syndrome is managed with exercise, weight loss and carbohydrate restriction.
Older horses, just like older people tend to develop orthopedic disease such as arthritis. The cartilage wears out and arthritis develops in joints with the most use. Unfortunately this is an irreversible change but we can do a lot for the horse in terms of managing pain and maintaining the range of motion of the affected joints. Keeping extra weight off and having regular balanced farrier hoof care reduces strain on the bones and joints. Exercise increases range of motion which maintains flexibility and lubrication of the joint which decreases the pain from arthritis. And lastly, anti-inflammatory drugs are quite useful. While there is a lot of abuse of drugs out there, especially drugs such as phenylbutazone (Bute), appropriate use can make and older horse much more comfortable and even workable again. Geriatric horses are fast becoming a more common part of our riding community. Those old sturdy steeds are invaluable when it comes to people who are beginners and don't ride often and for those children who are just learning to care for horses and starting to ride. If we keep these old friends feeling good and staying healthy, they can serve us happily for many many more years.
-Dr. Stacey