I just returned home from spending a great couple of days with my parents. Mom is a talented pianist and vocalist. She played the organ in the church every Sunday in the village I grew up in and has sung in choirs for as long as I can remember. On Sunday evening, the United Church choir she belongs to teamed up with several other church choirs in town for an incredible evening of Christmas music. Dad and I headed with her to the last rehearsal before the show.
I was intrigued as I watched and listened to choral director, Rev. David Robertson. I couldn't help but draw parallels to my own profession. He picked up on little things he wanted the choir to change or try differently. Little things I wouldn't have even thought about, let alone heard, until he brought them up. But those little things made parts of the song really shine. An obvious professional, his thoughts were positively supportive instead of negatively critical. I found this very similar to offering a suggestion to a rider about a small detail; maybe a change in focus or a shift in balance. Then, watching that little thing change the entire dynamic of the exercise.
Each choir had their turn on the stage and the evening concluded with all the choirs on stage in an energetic and moving vocal performance accompanied by violinists and one incredibly talented pianist. The evening wrapped up with everyone in the church singing, "Hark the Herald Angels Sing." I have loved singing those choral anthems since I was a kid. They're full of passion and spirit. Among them, Silent Night is one of my favorite traditional Christmas songs. It evokes a deep sense of peace and serenity. A peace that isn't fragile or timid, but strong and with purpose.
Very closely related, some of my most treasured moments with horses are spending time with them outside the training regime. Sometimes simply communing with a horse fills a spot in our soul. I have found this has great importance: an opportunity to communicate with them in a way that work may not afford. A way to share and learn about each other, free from goals and expectations. A time for meditation.
There is a deep significance to a horse at peace. For a horse, peace is the absence of fear, social acceptance, and freedom from pain and hunger. In our human world we recognize those important conditions as well. During the holiday season we make the effort to do things for those less fortunate: making donations, contributing to food banks and inviting folks into our homes.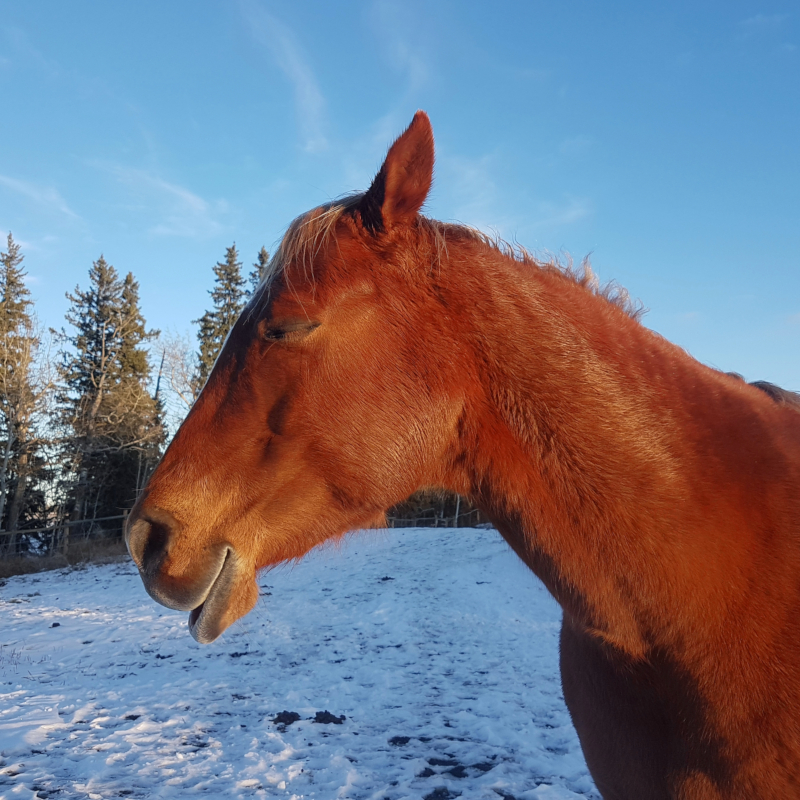 We can also bring peace to a horse. One that is scared, struggling in a new herd, hungry or sore. One that is confused or having difficulties understanding. In fact a big part of working with a horse is creating a path to peace through our exercises and in our riding. In that context we bring a horse balance – both mental and physical – as we eliminate brace and anxiety. The very thing a horse needs to perform athletically…and feel good about themselves.
The holiday season is also about peace. We take time off of work and the hustle and bustle of life to rejoice in the meaning of Christmas with our families. We are together with loved ones more than any other time of year. We eat more than we should. We relax and enjoy. You might say that we experience peace in the way a horse does.
Part of Christmas is the joy we derive in creating special moments for others. The giving of a gift. A drop in visit or a phone call. It is wonderful to receive a present, but there is something more satisfying to the soul when we give one. Going into the new year, let's commit to taking a few moments every day to share or bring a moment of peace to someone else or to a horse. We'll get it back in return.
Under the stars, on this beautiful silent night, the herd and I are simply going to enjoy each other's company. A moment of peace.
From our herd to yours, Merry Christmas from Amazing Horse Country.
Click the video below to play it.