Peace in your Leadership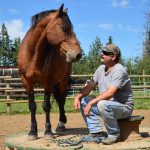 November 4, 2017
If your horse is calm with you – that might be fine if you are hanging out with him in the pasture. For practical riding though, it's not enough. In this case your horse needs to find peace – that is safety, comfort and trust – as a function of your leadership, particularly when that is put to the test in a real-life environment.
By Scott Phillips
Read the full article
---
Feel and Connection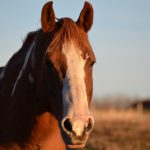 April 20, 2017
I received an excellent question from a student the other day: "How does one release tension and defenses if you are not really aware of it? How does this translate to the horse and feel?"
By Scott Phillips
Read the full article
---
Christmas 2016 – Horses and Relationships
December 19, 2016
Christmas is a time full of relationships, with friends, family…and our horses.
By Scott Phillips
Read the full article
---
Senior Horses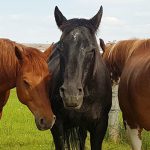 December 19, 2016
Winter is here and in the back of our minds we all have that little worry about our oldest horses. Will they be ok? Will they make it through another winter? How can I keep them feeling their best through the harshest weather? These questions especially arise when we think of the senior horses that are now pushing 30 years old. Obviously they have lived this long because of your amazing care in the first place, but how can we make sure they keep going strong for their last years?And??why are we dealing with these issues now since horses have been around for a very long time. Shouldn't this all be old news?
By Stacey Nahachewsky
Read the full article
---
Dirty Words for Hoof Practitioners – Thrush
September 11, 2016
There are several words that hoof practitioners don't like to use. Thrush is one of them. Here is some information on recognizing, treating and preventing thrush.
By Sharon Leney
Read the full article
---
A Horse is a Mirror
June 16, 2016
Consider for a moment that your horse is a mirror of you both physically and emotionally: he moves as you move and feels as you feel. That simple concept opens up doors to advancement.
By Scott Phillips
Read the full article
---
Horses and At-Risk Youth
May 13, 2016
For the past several months I've had a great opportunity: working with a group of teenagers; showing them how to train, work with and ride their horses at a ranch operated by the Poteet family in west-central Alberta. This is a great group of kids who enjoy having fun and learning with horses. The work […]
By Scott Phillips
Read the full article
---
The Obstacle Course – Focus and Follow
May 6, 2016
In any leadership position, be it a supervisor in an office, the Prime Minister or a horse rider, it's desirable that those you are leading follow you. After all, that's what leadership is, isn't it? We also desire that our followers emulate us. To do as we do. To think as we think. To have people or horses commit to us as leaders we need to cause them to think that following us is the best ??? and most rewarding ??? option. An option that produces success and relieves them of their questions and worries.
By Scott Phillips
Read the full article
---
Frustration
March 21, 2016
How do you eliminate frustration when riding, working or training horses? The answer is actually simple.
By Scott Phillips
Read the full article
---
Compensation – What horses do when they hurt.
February 14, 2016
Any horse that has ever been injured has likely experienced the effects of compensation. Sometimes these effects are even more uncomfortable than the initial injury, and if not dealt with can be very long lasting.
By Jody Schulze McMann
Read the full article
---