Is your horse only ridden in the arena?  Too valuable to be ridden outside? Only a show horse ? Too spooky to ride outside?
While it is crucial to have your horse gymnastically trained over jumps or dressage, your horse also benefits greatly from real world riding as I like to call it. This may entail working with cows, trails or just riding out on the 'Back 40'. Great horsemanship entails all of the horse in all environments.
If you answered affirmatively to any of the questions above, you're not alone. There is a general perception that English riders only ride in the arena. I think we can change this. Buy why ? Lets look at some advantages to training and riding outside the arena – an English trail horse.
Value: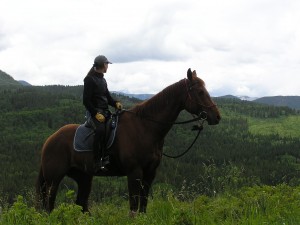 While I believe all horses are personally valuable to their owner or rider, there is a monetary value on the highly bred types. But your horse does not know how much he is worth in human dollars.
If you have spent a sizeable amount of money on your horse you, may be afraid to take him outside as you think he may hurt himself. If your horse is confident and happy in his work, there is a much lower risk of injury. A tight horse, no matter what his dollar value will be much more prone to injury.
Arena training can transfer to the real world. Is your horse tense in the arena? A focus on training the mind to be relaxed and still, is transferable to all breeds. While a hotter horse may perform with more extravagant movement the relaxed horse will have beautiful flow and self carriage in theirs.
A horse that has a foundation of stretch, rhythm and looseness will outlast and perform his counterparts. This looseness and rhythm is the tell of a still mind.
Your Show Horse
Your horse will encounter countless situations at these shows that are potential spooks. There are tables with cloths, potentially hiding monsters under them, children – very unpredictable at times, dogs, flower pots, people with papers in hand and who knows what else. Your horsemanship skills are put to the test at these show venues.
So your horse may deal with these mini crises but is he dealing with them positively?
Horsemanship in training may entail bringing in the potential spooky situations into the arena. Use things you already have for your training. Got a tarp, sheets or flags? Use your imagination. Put these in the arena and see how your horse reacts. Let him investigate. Be cool. Have positive calming thoughts and breathe. Taking on a worried mindset will not be beneficial for your horse. He needs you to be an energetic positive horse-person.
'Outside of the Box' Training
You may have had some positive experiences with spooky things in arena. Now take it outside. Start by hand walking him and stay in the comfort zone. If you sense him near the edge of his comfort zone, stay calm and breathe. Your emotional strength is what your horse draws from. Walk at the edge of this zone until your horse is more relaxed, then return to his comfort zone.
Then repeat. It is crucial you build on the positive mindset. Try not to overwhelm yourselves as this will be detrimental to success. You can recover an overwhelming moment by returning to the edge of the comfort zone and re-establish the calm mind set.
Your horsemanship skills are what the horse is counting on. Listen to what he is telling you with his expressions and posture. If he is tight with big eyes then he needs your help to be calm.
English Trail Horse
Hitting the trail with your English tack and English horse is a ton of fun. When you go out take a friend with you who has an experienced and calm horse. This will help you both be successful. Keep it short and positive the first time out. Horsemanship skills are crucial to observing when your horse is in a still state of mind and returning to the comfort zone in this state of mind.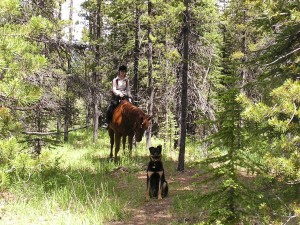 There are very good horsemanship trainers out there who can help you and your horse. Work with one who has experience in helping people and horses. We all need professional support and it is well worth the reward of riding out on the trail.
Your arena horse can benefit tremendously by riding outside of the box. The trail is mentally stimulating and can be physically demanding. Your horse will strengthen his muscles and the variety of terrain will help him become more confident and surefooted. Cross-training is essential for all athletes no matter what level.
Now go out there, feel the wind in your hair and enjoy your horse – he will enjoy the change too.
Linda Fitzpatrick
March 25, 2014