We all have our own stories of a horse we have just loved and had great times with.
Then there are the stories of horses whose relationships have been challenging.
Some horses are easy to love and others seem to put us in a mindset of negativity.  How can we deal with this?
Lets start with the challenging horse.  It's always a good idea to seek the assistance of a good professional trainer with this type of horse. This is a tough journey for most and a great support system where you can build on success is essential.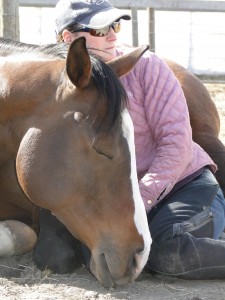 In training horses and people over the years I have come to understand relational dynamics to a deeper degree.
The challenger horse is the type that requires clarity with consistency at all times. Emotional health, thought and space are the first things I would look at. Lets focus on emotional health.
The person who has the challenger requires an emotional strength of calmness, stillness and clear direction in space. Just think, if you are in the presence of an individual who is highly stressed you would most likely begin to feel stressed just being with them. You are taking on their negative energy; this is the same with horses. When you are with a highly stressed horse it is critical that you are calm and still emotionally. This is the first place to start. This will take practice and does not come naturally to most of us.
Start in the field or the round pen. It is crucial that you have no agenda. Breathing deeply, bring yourself to be in a moment of calm. You will begin to notice changes in your horse. His head will relax, he will take some deep breaths. This is a good time to leave your horse for a moment. Return again in a calm emotional state. Breathe deeply again letting the stress leave your body and mind. Repeating this will establish some consistency and begin a new basis of how your horse will see and respond to you. Apply your new mindset while you are leading your horse, grooming and make this the new standard.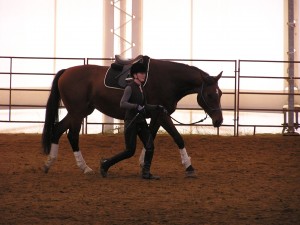 Now for the easy to love horse. This horse also requires clarity and consistency. The difference is that if we do not attend to the easy to love horse's needs through emotional health, thought and space they just fill in the gaps for us. This is no big deal to them since this horse is OK with taking care of us. These are the types of horses that will carry a beginner through their first creek crossing, jump a poorly approached jump with ease and let little girls braid their hair for hours.
This does not mean the easy to love horse will not teach us anything. Actually they will! Becoming emotionally calm and still with this horse and then tuning into their thoughts will be welcomed. For instance, when grooming are they asking for an itchy spot to be rubbed? Is this horse lifting a leg, swishing its tail or getting fidgety when being brushed? You may have touched on a pain issue.
Pay attention to the small signals this horse gives you and they will offer more of themselves to you.
The small things are critically important to all horses, we just need to listen.