Category Archives:
Uncategorized
As many of us know, once becoming a parent you seem to relinquish all rights to hobbies, interests, and most activities you enjoyed before (and I say this in the most endearing way possible) the rug rats came along.
Now don't get me wrong; my rug rats have changed my life and world for the better. I am more responsible, save more, work harder, do more housework, require less sleep, have more patience and cherish the little things.
But like all parents I have given up on or put other things on the back burner. For example: privacy in the bathroom, privacy in the bedroom, moments to myself, my emotions, my clothes, personal upkeep (to a certain degree), having a clean vehicle, and last but not least, horses. If I am not working I have kids and vice versa. To make life more complicated we have a blended family. Our access schedule is Thursdays, and every other weekend are days to spend with kids and work on things at home and to play.
When I have the kids I clean the house piled with the makings of a long workweek and two more children entering the premises. Floors show the whole life adventures of two dogs that are indoor/ outdoor, and laundry for five people. Of course everyone is a different size, except the girls, so laundry must be washed separately, or we face subsequent mornings of this isn't mine! Otherwise tidy and clean vehicles somehow in one day become a disaster filled with shoes, coats, sweaters, juice boxes, dirt, Kleenex. I think you get the picture. Keep in mind there is only one day to do these recreational activities.
Coupled with a family run business, a house in the making, 25 cows, 10 horses, and one resident skunk that will rip the garbage apart and spread it all over the yard. Most of the time everything comes in that order.
So horses ? How do they fit into this picture? Well when the sun comes up at 6AM its pretty simple thats what time you ride, before everyone else gets up (when they are up they come out in their pj's looking for breakfast). In the winter on the days the trucks won't start for work (because you forgot to plug it in the night before) and the days the kids want to play inside (you ride near the house so if any problems arise they can holler). In the fall you get off work with just enough time to ride at dusk then boogie home to go pick up kids from the day home or the other parent. We also go to multiple cattle drives, brandings, go roping in the winter, the occasional clinic, check cows, go camping and participate in the Canadian Cowboy Challenge.
Now you may ask, how do we do this with a 3, 5 and 6 year old in tow? Well, they ride mostly by themselves and with great eagerness to do so. We have a minimal tolerance in our home and few toys. Our policy is one strike then you're out for any given ride or activity. Yes, we do time outs too. Now don't get me wrong; we have some patience and lenience but when it comes to animals, quads, and other peoples homes there is none. We have certain expectations that our kids are aware of. Some people think we are expecting them to be too mature, but here is the reality of it: how many mistakes do horses allow? Cows? Dogs? Quads? Glass? Walls? Society?
What horses and other animals give parents is a teaching tool. Our kids know how to tell when the cows need hay in the winter, how to feed the dogs and how to give the horses a treat without getting fingers chomped off. They've learned where it's safe to stand when loading and unloading horses from the trailer. Where to go when the bull and or cows gets loose. Where the saddles go when you're done with them and even where the truck needs to be to hook up the trailer. They know their manners when someone gives them lunch at a cattle drive. And where they can run and scream without breaking things!
Although our kids are not old enough to ride in events like the Cowboy Challenge they look forward to the days they can and are being well equipped already. We participate with a group called Ridge Riders; we do two 5 day camps each year. We ride out from camp each day with packed lunch. Some people don't ride so if the kids aren't into riding that day, they can stay and play in the creeks or help at camp. They are part of set up and take down. They help care for the horses and get ready for the rides.
Our family has been cowboying for generations. We raise our children in that rich tradition. Family oriented riding groups and events like the Canadian Cowboy Challenge help provide families like ours the opportunity to keep doing what we love with friends and neighbors.
When we have time, that is.

The ABC Race for STARS fundraising season is in full swing, having started May 1 and running through to October 13.  We have 96 riders signed up. Given that number of riders, we should have a good year! Click here to see the ABC Race for STARS listed in the STARS calendar of events.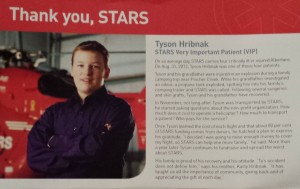 I don't think there is one of us that hasn't been affected by STARS in one way or another. Our own Deb Dombosky, friend, ABC Rider, and ABC Race for STARS committee member, knows first hand. Her grandson, Tyler Hribank is now one of STARS VIP. 
However I think it is easy to put to the back of our minds just how important fundraising for STARS is.  It is almost an expected service for us now, especially here in Alberta. But unbeknownst to most of us, it doesn't come cheap. I know we all know it costs money, but do we know just how much? And STARS has also now expanded across western Canada and serves Manitoba and Saskatchewan as well.
Did you know that the money you raise for STARS through the ABC Race for STARS, goes directly to STARS in your own province?
Let's give you some background info on what it takes to operate a STARS mission:
an average flight costs $5400
STARS averages 4 missions per day
the BK117 medically equipped helicopters are $5 million each
on each mission there are at minimum a??flight nurse, flight paramedic team??and of course a pilot
STARS total operating expenses per base is approximately $10 million a year.
Patients are never asked to cover the cost of transport in a STARS helicopter. ??
How do they get money to operate?:
STARS is a charitable, non-profit organization
Funding is met through donations received from individuals, service groups, business and corporations, municipalities, and through collaborative agreements with provincial governments.
Approximately 20%of STARS total mission costs is funded by Alberta Health Services
The remaining 80% comes from fundraising and community partnerships.
Who do they serve?:
So if an average mission costs $4500, last year ABC Race for STARS riders, raising over $19,000, helped 4 people get the life-saving medical attention they needed. Pretty cool when you look at it like that!
That means this year, with 96 riders signed up for the ABC Race for STARS, if each of us raised a simple $1000 each, we would be able to donate $96,000 to STARS and be helping over 210 people!
That's incredible!
So here's the call to action…I challenge each of you to raise a minimum of $100, and then build on it if you can, – $500, $1000 or more. As one person it may not seem like much, but together we can make an impact and save lives!
Join the ABC Race for STARS ??or Donate Now!
~Check out the ABC Race for STARS contests running this season!~