We all hate the thought of something bad happening to our equine friends but we owe it to them to be prepared. This is a guide to your permanent equine first aid supply on hand for in the barn. When you are on a road trip or trail ride you will want to bring key items that are in a portable container to put in your trailer or saddle bags.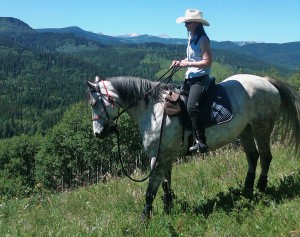 There are many equine first aid courses offered now and they are a great way to tune up your first aid practices like bandaging and wound dressing.
First off make sure you have the following in place in case of emergency.
A land line phone or good cell phone reception.
A posted list of emergency procedures including 911 and other emergency numbers such as vet and key people you wold call for help. Post this by the phone and any other key locations.
I own five horses: QH, Paint, TB , Arab and Warmblood. I also take care of other peoples horses. Thankfully injuries are few around here except this year. My QH gelding somehow punctured his hoof, right between the digital cushion and the frog. It was deep! No damage was done to any crucial structure. Later this summer the same QH managed to get a deep slice right under his eye almost severing off his lower lid! My Tb mare managed a wire cut and bowed tendon and my amazing older Arab choked then became unusually colicky. The first aid treatments of these cases were critical. Calling the vet was the first thing to do after applying any first aid. I am grateful to have acquired excellent advice from peers and vets over the years to help me in these types of situations and give me options on treatments.
I have gone with the conventional medicines and treatments as well as the holistic approach. It is important to know your horses very well as some treatments and medications may not be the best for that individual. For example, on my QH with the puncture wound, I gave him antibiotics as per my vet as his leg became infected despite my strict regimen of flushing, cleaning and wrapping. His body required a rebuild of sorts after the treatment. I put him on probiotics, an herbal detox, liver flush all over a period of a few weeks. In the future a more holistic approach is my direction with him.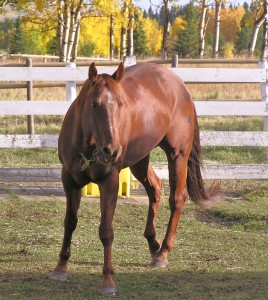 The first aid kit is a necessity for any horse owner. My barn kit is actually a cabinet with plenty of supplies on hand. Inevitably you loan some supplies out to a horse in need. Keep this clean and organized.  I also have a small fridge for those items like probiotics. Your kit may also contain many items to help your horse with the healing process, inside and out. The following is a good guideline on what to include in your kit. Add items that will be helpful in any surprise situation. Is there such a thing as being too prepared?
A chart of vital signs and colic signs posted or in your first aid kit is very handy.
The absolute necessities:
Thermometer
Stethascope
Scissors. No pointing ends! Get the ones??with rounded ends.
Vet wrap. Many many??rolls.
Duct tape.
Salt. Great for adding to warm water for a natural saline flush.
Gastricol. Use when any colicy symptoms appear.
Alcohol. for disinfecting scissors and such.
Syringes. Great for flushing out puncture wounds.
Disposable gloves.
Clean towels. Large and small.
Hoofpick
Tweezers. Get that nasty tick off or a foreign object lodged in skin.
Stainless steel bucket. Easy to disinfect and indestructible.
Square gauze. Various sizes.
Fly mask. Must have to protect eyes from flies which can cause infection but to protect injured eye.
Bandages. Gamgee, standing quilts, stretch and polo bandages.
Additions to your kit.
Many are holistic additions I have made over the years. Be aware that this list can grow as you find what is better to have on hand. Many items can do the same thing but some are better for specific situations.
Honey. Unpastuerised. Antibiotic.
Oil of oregano. Antibiotic.
Arnica pills. Arnica rub. A good anti inflammatory.
Tea tree oil, spray
Apple cider vinegar with Mother. Great to spray on hooves with slight thrush. Mix with Tea tree oil.
Betadine.
Probiotics.
Polysporin
Hydrogen peroxide
Baby disposable diapers. A good hoof poultice.
Hoof boot. I know this is an extra but it can be quite convenient.
Coconut oil. Great for small scratches, mud fever.

Essential oils. This is an area I am beginning to explore. Many oils are great healers. Do your research to find out what and when to use them.

Roll of paper towels.
There are many equine holistic practitioners who are a wonderful source for connecting you to the right product per ailment.
As you can see this can get quite extensive and expensive. There may be many items missing here depending on what your approach to healing is. Experience with your horse will help you decide what is the best course of treatment. Call your vet anytime you need help or advice and let them know of any adverse reactions your horse may have to conventional pharmaceuticals.
Adding non essential items over time will be easier on the budget. All is worth it to help your equine partner and give you peace of mind. Your horse appreciates all the time and care you give him.