The ABC Race for STARS fundraising season is in full swing, having started May 1 and running through to October 13.  We have 96 riders signed up. Given that number of riders, we should have a good year! Click here to see the ABC Race for STARS listed in the STARS calendar of events.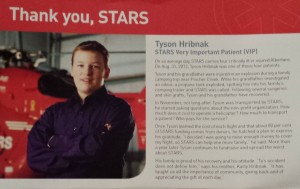 I don't think there is one of us that hasn't been affected by STARS in one way or another. Our own Deb Dombosky, friend, ABC Rider, and ABC Race for STARS committee member, knows first hand. Her grandson, Tyler Hribank is now one of STARS VIP. 
However I think it is easy to put to the back of our minds just how important fundraising for STARS is.  It is almost an expected service for us now, especially here in Alberta. But unbeknownst to most of us, it doesn't come cheap. I know we all know it costs money, but do we know just how much? And STARS has also now expanded across western Canada and serves Manitoba and Saskatchewan as well.
Did you know that the money you raise for STARS through the ABC Race for STARS, goes directly to STARS in your own province?
Let's give you some background info on what it takes to operate a STARS mission:
an average flight costs $5400
STARS averages 4 missions per day
the BK117 medically equipped helicopters are $5 million each
on each mission there are at minimum a??flight nurse, flight paramedic team??and of course a pilot
STARS total operating expenses per base is approximately $10 million a year.
Patients are never asked to cover the cost of transport in a STARS helicopter. ??
How do they get money to operate?:
STARS is a charitable, non-profit organization
Funding is met through donations received from individuals, service groups, business and corporations, municipalities, and through collaborative agreements with provincial governments.
Approximately 20%of STARS total mission costs is funded by Alberta Health Services
The remaining 80% comes from fundraising and community partnerships.
Who do they serve?:
So if an average mission costs $4500, last year ABC Race for STARS riders, raising over $19,000, helped 4 people get the life-saving medical attention they needed. Pretty cool when you look at it like that!
That means this year, with 96 riders signed up for the ABC Race for STARS, if each of us raised a simple $1000 each, we would be able to donate $96,000 to STARS and be helping over 210 people!
That's incredible!
So here's the call to action…I challenge each of you to raise a minimum of $100, and then build on it if you can, – $500, $1000 or more. As one person it may not seem like much, but together we can make an impact and save lives!
Join the ABC Race for STARS ??or Donate Now!
~Check out the ABC Race for STARS contests running this season!~