This next dish is easy to make and all the ingredients travel well and don't mind getting banged about in the pack boxes. Make a lot, make a little, the recipe is easily adjustable.  Want to spice it up more, add chili flakes. Bacon goes well in this dish, but then bacon goes with everything!
2 cups pasta – penne or rigatoni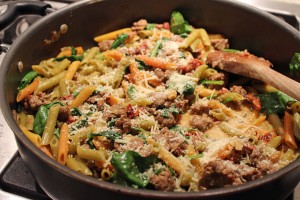 1/2 cup sliced dried tomato
1/4 cup pine nuts
2 cups spinach
1tbsp oil
1tsp Italian seasoning
1/4 cup dried onion or 1 medium fresh onion
1 tsp garlic – dehydrated or fresh
1/2 cup Water (wine is really good if you happen to have it)
Optional:
Chopped spicy sausage (pepperoni, hot Italian, or something similar)
Parmesan cheese
Cook pasta and set aside.
Put oil in pan, add pin nuts and toast a bit. Add sundried tomato, onion, garlic and herbs. Stir it up a bit and then add the water/wine. Simmer. Then add the cooked pasta and sausage and lastly stir in the spinach.
Sprinkle with parmesan and eat.
Rachel, better known as 'Cookie', has been a chef for clients around the world. She brings a uniqueness and flare with homegrown tastiness to backcountry cooking.  Originating from New Zealand, Rachel currently lives on a farm near Dapp, AB.