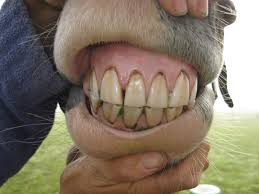 Dental Disease in Horses: How much do you know about your horses mouth?
Horses, unlike dogs and cats, have teeth that continuously grow (hypsodontal teeth). This is an adaptation to allow for continued grinding of forage and feed material to better extract nutrients and aid in digestion. A horse has 36 to 42 teeth depending if it's a mare or stallion and if it has wolf teeth or not. Stallions usually have canine teeth, while mares typically don't.
Here is a diagram of typical equine dentation. The lower jaw has two halves, each half contains 3 incisors, 1 canine (may or may not be present), 3 premolars and 3 molars. The upper jaw is similar except for a residual premolar which is often referred to as the wolf tooth. These are often removed during castration in colts and on the first dental examination of fillies.
Age can be determined by looking at a horses teeth due to their eruption time as youngsters along with their wear pattern and shape as adults. Below is an example of how the teeth change with age. It is not an exact science but it can give you a decent estimate of age.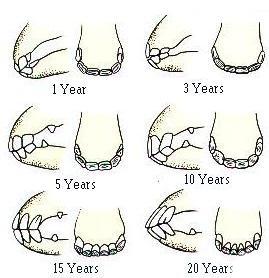 During the natural chew pattern and wear of the teeth, there are common dental abnormalities that occur during the lifetime of the horse. Some horses due to their conformation and selection for other abilities such as athleticism, agility or disposition have a predisposition to developing pathology (detrimental abnormalities) within their mouth. If these horses were wild, they would perish due to these abnormalities. This is where regular dental care and preventative treatment can significantly prolong the life and well being of your horse.
What are the signs of dental problems?
Signs of dental problems are varied. They can be subtle signs such as slow eating or reluctance to drink cold water, chewing and then stopping and then chewing again. Or more obvious like head tilt during chewing, dropping feed (called quidding, see images), foul breath or weight loss. Some more serious consequences of poor dentation include premature swallowing of feed leading to indigestion, choke or colic. If teeth become infected you may see excessive drooling or sinus discharge (since the roots of the teeth are closely connected with the nasal sinuses) or facial swelling. Oral discomfort will also lead to reluctance taking the bit, excessive head shaking, resistance during training or acting out.
This horse may be acting out due to discomfort in its mouth. Without regular dental care, teeth can develop sharp edges and points which can cause ulcers and irritation, especially when we ask the horse to carry itself in a specific manner such as a tucked head carriage.
Dental Examination and Pathology
Most dental problems can be prevented by having regular dental care. If you suspect your horse may have a dental problem, a physical exam and then an oral examination can be done by your veterinarian. Due to the nature of the horse, a thorough oral examination cannot be done without sedation and a speculum. This is because the molars in the back of the mouth can't be safely and properly evaluated without these tools as they are nearly 12 inches from the front teeth.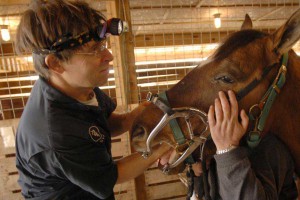 The following are a list of abnormalities (pathology) that can occur in a horses mouth:
Enamel points–These occur along the top outer edges and along the bottom inner edges of molars and premolars. They can cause ulceration of the cheeks and tongue.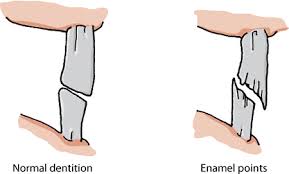 Hooks and ramps–These occur along the first premolars and the last molars and can dig into the gums of the opposing side if large enough, and can influence the wear of the opposite matching teeth by changing the chewing pattern of the horse to something unnatural.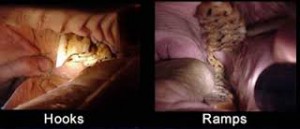 Parrot mouth–This is where the upper and lower jaw are not the same length causing the upper incisors not to match with the lower. Therefore the teeth won't wear down naturally and overgrow causing an entire array of problems! It is very important that these horses get regular incisor care to minimize problems. This is an inherited condition so horses with this problem should not be bred.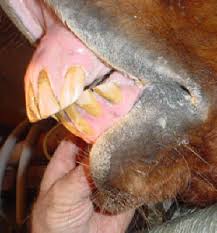 Extra teeth–Most often incisors which will cause misalignment leading to abnormal wear.??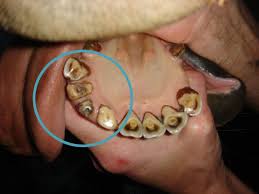 Tooth fracture-1Young horses that fracture their baby teeth may have adult teeth that erupt abnormally. Older horses that fracture their adult teeth will influence how the opposing tooth is worn down and may need corrective adjustments until the fractured tooth grows out to a normal size again.
Caps– As a horse ages, the first premolars and molars erupt first and then the second and then the third. As the third premolar erupts, the first molar is already well established, so if there isn't enough space the baby tooth gets wedged and doesn't allow the adult tooth to fully erupt, this is called a cap.
Wave mouth and Step mouth–These problems refer to an irregular bite surface which prevents proper grinding of feed. Both conditions esasberate if left alone until the horse can no longer chew or grind feed and often results in pain as gum disease and feed impaction develop. If caught early, they can be corrected. If left too long there are management strategies but no solution.
???? ?? ?? ?? ?? ?? ?? ?? ?? ?? ?? ?? ?? ?? ?? ?? ??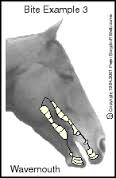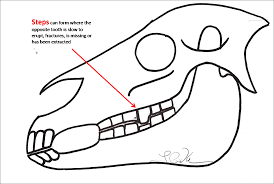 Equine Odontoclastic Tooth Resorption and hypercementosis (EOTRH)–This condition affects older horses and is extremely painful, to the point the horse will not be able to apprehend food and loses condition rapidly because they simply rather not eat due to the pain. An example of how extreme this pain can be is that even horses with fractured mandibles will continue to eat so we know that EOTRH is extremely uncomfortable and if not corrected the horse will starve to death. The only way to correct the condition is remove all the incisors. While this may seem harsh, the horses rapidly adapt and can even continue to graze with their now pain free gums. They simply aren't as efficient at grazing anymore and may need nutritional supplementation.
What is the best way to ensure healthy dentation?
The best way to maintain oral health in a horse is have your veterinarian perform routine oral examinations and dental floats if necessary. Depending on your individual horses needs this may be every 6 months or every few years, the more problems your horse has in their mouth the more often dental floats will be required. Ask your veterinarian how often they recommend floating teeth for each individual horse and their unique circumstances.