I was chatting with a teenage girl at a conference some time ago. She told me about a horse that she really liked, but doubted the sentiment was even remotely mutual. I could tell from the discussion that she had been putting effort into the horse and it wasn't turning out the way she wanted. She ended her tale of woe by stating, I just don't know what to do to make my horse love me.  Of course she asked this with a pleading look in her eye, waiting for me to give a one-liner answer, Oh, that's easy. To make your horse love you, you simply follow these two quick steps.  Of course, I didn't answer that– sarcasm was not called for. She was serious about her dilemma; however she truly did expect a short answer.
So the short answer is: You can't. Lets put it into perspective – a teenage perspective – to answer her question. Lets say that you're in grade 11. There is a boy or girl in your class that that you have your eye on. How do you make this person love you? If there is a way, I certainly missed out on something in my high school years! To the best of my knowledge, it's not possible short of turning the scenario into a science fiction movie and adding a love potion. Or in high school, owning the fanciest truck.
There are, however, things you can do to set the situation up to offer your horse the opportunity to change his perspective of you. Keep in mind this will not happen overnight. First of all, if hes clearly not into you, why is that? Is he simply so used to you trying to force some commitment from him, that he doesn't even want to be around you? This could fit well with our teenage love story…
Just what is love, anyway?
Before we get into that, just what is love, anyway? Correct me if I'm wrong but isn't that a Howard Jones song from the 80???s? Maybe I'm thinking too much of my high school days here. Sigh…..back to the present. Love is defined as an intense feeling of deep affection; a deep romantic attachment.
As humans we naturally tend to personify animals, and we sure like to add the romantic factor. I haven't met many people that don'tt do this. We do this so we can elevate the animal to a human mental status on some level, in order to explain it's actions and assume we understand it better. That said, be very cognizant of how you are evaluating the mental status (love, anger, hate, fear, jealousy, etc.) of a horse. As soon as you start evaluating the horse using human psychological and emotional terms, you've already put up a barrier between you and your horse: you're seeing what you want to see, not what the horse is presenting.
Instead, and to begin with, be very simplistic about what a horse can feel. For clarity and the purpose of this discussion lets make two simple postulations:
1) Horses absolutely require 2 things from you:
a. Clarity, and
b. Peace in your space.
2) Horses only have only 4 mental states:
a. Fear,
b. Challenge,
c. Stress (hunger or injury) and
d. Peace.
You'll notice that love isn't in there. The human emotion of love, although the definition is simply worded, can be a very complex emotion. Described differently by everyone, the emotion is likely much more complex than the horse is capable of. A horse however, IS capable of feeling peace, trust, and comfort. A horse can both emote this and feel this from you, the same as he can feel your fear or challenge. It is entirely possible in fact I attempt this whenever I am working with a horse to create a space of peace.
The Mental States
Fear is a physiological response to danger, either real or perceived. If a mountain lion jumps out of the bush at your horse he will experience fear. His instinctual reaction to his fear will be to flee. Agreed? It is no secret that we can teach a horse to change his response to fear. Consider a simplistic example: a horse will follow his leader. If one horse spooks at something and the leader runs, the rest will run. If the leader ignores it and puts his head back in the grass, the rest will resume eating. It's a communication method that is thousands of times faster than a human could ever pull off (humans would schedule a meeting to talk about whether the lion was, in fact, dangerous). It works and is an essential survival skill for a prey animal. What does that tell us? It tells us that the leader can communicate to the rest of the herd a state of mind: fear, challenge or peace. If the other horses feel peace from the leader they will relax.
Challenge: If a horse in the herd decided to challenge the horse above them, they will have their little scrap, the question of who is above who will be answered, and they go back to doing what they do. A horse will also challenge you in the same way. If your answer is different every time, he will continue to challenge you until the question is answered. For example, from his viewpoint sometimes you act like a leader and other times you respond as if you were below him in the herd. A crucial question is not being answered:  Just who is above who here????
Stress. Consider how stress is relative in the human world. We adapt to a certain level of pressures in our lives and this becomes the norm. Additional pressures which are not planned or expected cause us stress. This is why something you consider irrelevant can cause great stress in someone else. Stress plays an important role in the actions of a prey animal like a horse; hunger or injury can mean death. In the domestic horse world, our horses have all their needs taken care of: they suffer an injury and we take care of it. They're hungry and we feed them. They learn and expect that we are going to do those things. Just like a person, you can't expect a sore or hungry horse to perform and act like one who is healthy.
Peace.  Just what is peace to a horse? Peace is freedom from fear, stress and challenge. In that place of peace they can utilize their bodies without brace and move in freedom. Be it working a cow, jumping or simply standing in the sun relaxing.
In the context of this article, if we assume our definition of love – for a horse – is a state of peace free from fear, stress or challenge, then for the horse to love you, as a leader you must provide that state. And you truly need to feel it, because that is what the horse senses. If you act without feel, for example, you run up and throw your arms around his neck expecting he'll hug you back, he is most likely going to think fear or challenge.  He may think that you are simply playing; you will likely annoy him or encourage a reciprocal play response. Regardless, your actions are not providing him peace.
In order to progress to the point where a horse will seek your space as a place of peace you will have be very clear and consistent about every action, reaction and feel you present to your horse. Horses are very forgiving, but repeated unclear presentation is going to cause them to disregard or distrust you.
An example
I recently worked with an older horse that, for all intent, was just being started. My initial thoughts were that he may have been subjected to repetitious, unclear, no-purpose presentation. I suspected this because of his reaction when asked to move in any way; he simply tuned me out, like he was thinking, "Here we go again.  I will just ignore this, go through the moves, and wait until it's over." The human term we apply to this: stubborn. We ask a horse to do something, he doesn't, and therefore he is stubborn. Our gut reaction, as wrong as it may be: increase the pressure.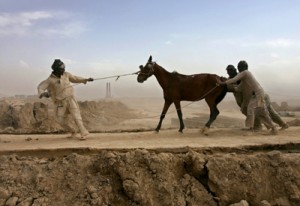 Stubborn
, like the term
behavior issue
and a plethora of others, are human-only words that do not apply to a horse. A horse is not capable of being stubborn. A horse cannot have a behaviour issue. A horse can only be a horse. A horse can only act like a horse. The use of those terms is simply our way of attempting to understand the horse by personifying his actions and reactions. If you take anything from this article, remember that. It just might open your mind up to considering another possibility when you are frustrated or unsure of what to do with your horse.
It became clear that his ignoring me was a layer. Underneath that layer was outright fear. His response to something scary or unknown was to turn into a rigid statue, to mentally exit the stage. The potential mistake that many people might make is to consider this horse stubborn. They would apply more pressure in order to elicit a response. In this case, that course of action would have been exactly what he expected and only reinforced that his response was correct.
We spent some time working through this outer layer. His fear response is now this: he shows his fear, becomes alert but looks to me to see what I'm going to do about it. I achieved this through repetition: introduce a pressure, show him that the response is to relax. I had to start at an incredibly simplistic level because pressures that were initiated by me – even as simple as the weight of my finger on his halter – caused him to leave me mentally. For him, I had to begin with very simple pressures: natural things in his environment that distracted him such as snow falling off a tree branch, another horse calling or walking nearby. I'm being very clear on what I ask and rewarding his consistency in try with peace in my space. Over and over and over. ??His simple mind puts these things together:
1) When Scott asks something and I try, it feels good.
2) Pressure can mean anything: go toward Scott, change my thought, move away from Scott, whatever…but it is always is preceded by: relax and think. ??At any time, any place and any gait.
3) If I challenge Scott, he consistently, but fairly and without any anger or force, lets me know that he is the leader.
Ultimately these pieces come together like this:
Scott has demonstrated by his actions that he is the leader. Therefore I don't have to worry about that anymore. That burning question of who is above who is below is gone.  When there is pressure or something scary, I normally resort to fear and flee, but my leader is demonstrating how to respond when pressure is applied.  I'm learning that pressure means relax and listen to Scott.  And when I do, he provides a peaceful place for me.
I have almost 3 weeks into this horse now. He has made huge progress and sticks with me, physically and mentally. As a horse, he is seeking the absence of challenge and fear that he knows that I as a leader have demonstrated that I can provide. When I create that peaceful space for him he will lower his head, relax and sometimes yawn. If he is in motion, it's fluid and relaxed, not stiff and jerky.
To a horse, that peace may just be the human equivalent of love. It's very honest.
For sure, a horse might like to be around you because you scratch him or feed him treats or in some way make him feel physically good. Your horse might be comfortable in your presence, but that might be the extent of it: if something disturbs him, what does he do? Run to the herd? Or look to you for your response and guidance? How are you addressing his mental needs? Your perception of his love might be like the wrapping on a present. What is underneath?
The goal of the horseman is to create and shape what is underneath. And you must start by creating it in yourself.
Lets be honest. You can't force anyone or any horse to love you. What someone even a horse – feels about you is a choice that you can't make for them. For a horse, you can influence that decision by proving clarity and peace (aka leadership) for him. When your horse buys into that, you're well on your way to setting up a true connection with him. When he begins to seek you out as a provider of his mental needs, well, you could probably then say he loves you.
After all that theory, I'll end this on a personal note. When I am truly honest and open to a horse, I can feel the emotion that he is projecting. I can also see it in his eye, posture and muscle. When one of my horses walks up to me, puts his nose on my shoulder, sighs a huge sigh and completely relaxes…well the feeling I have for that horse is nothing but love, my human response. I've been around horses long enough to know that they can pick up on any state of emotion or energy I put out. A horse will feel my response, but how they interpret it is something I'll never know, because I'm not a horse. I can however, judge from their reaction: sincere peace, comfort in my space, honesty, willingness, trust and commitment.
And just maybe, after all, that's what love is.
Scott Phillips
January 2015