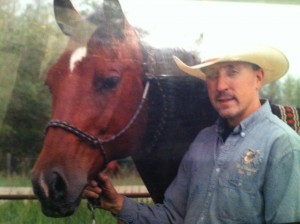 It was a beautiful July afternoon at Hilltop Ranch near Priddis, Ab., and I was about to meet Amazing Backcountry's Scott Phillips for the first time. My wife Laurie and I had joined Amazing Backcountry a couple of months earlier at Scott's request.  That's a story for a future edition.
Everyone reading this will know that one of the expectations of ABC membership is that we share information with other members. Even information as close to our collective hearts as our "Top secret" or "Have to kill you if I tell you" favourite riding trails.
Boy did I have questions for Mr. Phillips.  My inside voice had spent hours rehearsing my opening and closing remarks to the western web-savvy upstart! When I was done with him, he was gonna ride back to the ABC mothership with his cursor between his legs and shutdown the trails section of his fancy website.
Now, the last thing I wanted to do was frighten Scott away, after all he had joined us sight-unseen in Priddis to show us some Amazing Back Country.  So I had to be nice, at least for a little while.  After a very enjoyable 15 kilometre ride (on a secret trail….LOL!) and a couple of cold beers, I found us sitting under a porch to escape a rain storm and it was then I decided to pounce like an injured cougar.
"Scott, why would any trail rider worth their salt want to divulge the location of their most favourite staging area and trails?'  I continued with my well-thought out rationale.  "Then on that beautiful weekend when all the stars are aligned for a perfect trail ride, I'll arrive at my favourite, once-secret staging area to see a dozen rigs from the Taber riding club cloggi
ng up the parking lot and the trails. Yippeekiyay !"
No offense to any and all Taberites!
Scott suggested that my secret riding area is probably not so secret. For those wondering when I'll stop beating around the bush, the Blackfoot Lake Recreation area is located just east of Ardrossan and south of Highway 16.  There, I said it now get on your horses and go ride those darn trails!
Scott continued to point out the obvious by adding that without sufficient equestrian use, that land could be reallocated to the hoards of mountain bikers, quadders, U-ters, snowmobilers and 4X4 enthusiasts (my characterizations, not Scott's) that are waiting in the wings. Points taken!
If you are wondering what in the blazes I'm talking about, the next time you and your horse are enjoying a ride through a provincial recreation area look for a camouflaged game camera, like the one pictured here.  Ride up to it and look for a metal tag identifying it as provincial property. If it doesn't have a tag, maybe it belongs to some weird voyeur and you should contact the local authorities…hah hah!  [Like roads and highways, trail usage may be monitored, and that that data can be used to dictate future trail designation or funding for maintenance and upgrade programs. – ed]
Scott convinced me to think "big picture" when it comes to sharing trail locations. If we all just take a moment and loosen a button or two on our leather vests, we can't help but agree that to share is better.
So, to steal a phrase from the business world, lets "open our komonos", figuratively speaking of course, and tell the world where they can find the best equestrian trails Alberta has to offer!

Happy Trails!
Kelly Gordon
Editors Note: Most trails and staging areas are already cataloged and mapped – they have been for years and they're by no means 'secret'. Having a map and some trail information is great, but what is lacking is current information: when was that map published?  When was the trail last used or maintained?  Is the staging area even there anymore? On our initial cache-hiding venture years ago, I drove to a 'published' and mapped staging area only to find it barricaded and the trail overgrown from years of non-use.
The tools we've given you allow you to share updated information on trails and staging areas that you use.  Not only does this provide a means to research trails that you might be considering riding, but there are many spillover benefits.  For example, as Kelly states, trail usage is monitored.  New riders on trails isn't a bad thing; let's face it – there's no chance that a trail is going to be overwhelmed by riders if it's published; the price of gas these days, and simply time and logistics, is most likely going to prevent everyone from Taber from making weekly trips up to the Blackfoot.  Additionally, using trail systems – anywhere in the world – is the only way to guarantee that they will continue to exist. As proof of that, read the recent Trail Rangers article by Dale at Alberta Carriage Supply.
We feel that by sharing trail and staging information, and promoting the equine use of these resources, we preserve and protect them, not only for our own use, but for future generations.  The use of our backcountry and enthusiasm to get out on horseback and explore is what will keep our precious trail system alive – and designated for equine use.  Who knows?  I wouldn't be surprised that in the not-so-distant future, Amazing Backcountry will be a source for trail usage information. It's a heck of a lot easier on our tax dollars than putting up trail cameras.?
Feel free to add your trails, staging areas – and share your Adventures!  – Scott Phillips